Robbe Eiland the Dutch name meaning seal island, in the early times of discovery, thousands of seals were found living on Robben Island. Penguins, Tortoises, Birds and sea mammals were also an abundant community found here.It was generally a safe breeding ground, Whales enjoying the location in early spring, lobsters and shell fish found all along the shoreline.

Hundreds of years ago, whales in great masses swam around the waters of the Island. Jan van Riebeeck wrote in 1652 "Noticed many whales in the bay, and especially this month they were so near the ship that one could easily jump onto them from the yacht". Commercial properties became discovered about these mammals, oil for burning lamps could be extracted in large quantities, also meat and their baleen-tooth like boney substance used for stiffening women corsets.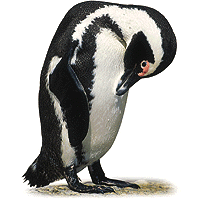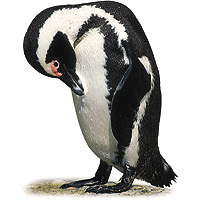 During the late 1800's whaling was in high demand and " the southern right whale population visiting South African waters was reduced to 10-30 adult females when commercial whaling was stopped in 1940. These numbers have now increased to about 400 adult females and a total of about 1 600." Cap tour Whale Route Guide, 1994 The same fate befall the Seals and the Penguins, all seen as a commodity these animals fates were doomed, where once they had no predators now Penguin eggs were favoured for taste and size, Seal skins enjoyed as clothing to be distributed world wide.
In South Africa today nobody is allowed within 300 metres of a Whale Penguins as they are a protected bird. By 1992 over 2000 active nests were counted and the island is visibly populated with these sophisticated animals always dressed for visitors, in a tuxedo.
There is also a large presence of Mole snakes, a harmless, big, black or brown snake. It preys on animal eggs and dassies. There is a variety of buck and game springbok and 74 species of birds.
Much has been done to restore the Island's ecological haven to what it used to be centuries ago. In 1991 Robben Island was included in the SA natural heritage program and the northern parts of the island was declared a bird sanctuary. Buck,ostrich, and rabbits are also to be found on the island.